Religion
Hindu
Jain
Muslim
Buddha
Parsi
Christian

People
Population
Social
Celebrities

Festivals
Kite-Flying
Tarnetar
Navratri
Other


Sports
Desi games
Mountaineering


Media
Newspapers
Radio
Television
Films


Communications
Computers
Electronics
Pagers
Cell phones
Internet
BBSes

Gujarat History - Milestones:
2500 BC. Harappans appeared from Northern India to settle down, and established over a hundred towns and cities.
100 to 500 BC. Yadavas, Krishna's clan, held power over much of Gujarat, with their capital at Dwarka.
200 BC. Political history began with the powerful Mauryan empire, established by Chandragupta with its capital at Junagadh, and reached its peak under Ashoka.
100 AD. Satraps, members of the Saka tribes, gained control over Saurashtra.
388 AD. Guptas, and then Maitrakas, established their their capital at Valabhi.
1100 AD. Saurashtra came under sway of the Solanki (Chauhan) dynasty.
1299 AD. Khalji conquested and the Muslim rule was established.
1307 AD. Muzaffar Shah's declaration of independence from Delhi marked the foundation of the Sultanate of Gujarat.
1500 AD. Moghul emperor Akbar conquested.
1531 AD. The Portuguese, already settled in Goa, captured Daman and Diu.
1613 AD. The British East India Company set up original Indian headquarters in Surat.
1818 AD. British sovereignty was established.
1960 AD. Bombay state was split and Gujarat state was created.
Today. Gujarat's textile industry is still the largest in India, with the trading of the business-minded community helping to mantain its wealth.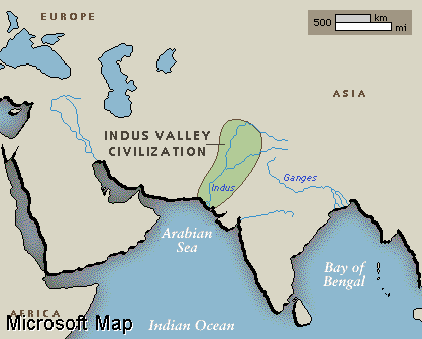 Indus Valley Civilization(2500-1700 BC), was the earliest known civilization of South Asia, corresponding to the Bronze Age cultures of ancient Egypt, Mesopotamia, and Crete. Harappa and Mohenjo Daro belonged to this civilization.
Before the Mauryan empire took hold in the fourth century BC, the Indus Valley was the largest, well-planned and sophisticated civilization in India. The cities Mohenjo Daro and Harappa were discovered in 1920s. This society spread from the present borders of Iran and Afghanistan to Kashmir, Delhi, and Gujarat, covering an area larger than the Egyptian and Syrian dominions put together. It lasted until the heavy floods swept away the towns and villages in Sind, Saurashtra, and South Gujarat.
Lothal, close to the Gulf of Cambay in South Gujarat, was a major port, and source of shells which the Harappans made into jewellery. The work of Indus Valley artisans shows a high degree of craft specialization. Characteristic artifacts include a distinctive black-on-red pottery, ceramic toys and figurines, etched carnelian beads, metal (bronze, silver, and gold) ornaments and tools, and stamp seals with an undeciphered script.
The Indus Valley civilization was first defined by the British archaeologist Sir John Marshall's diggings at Mohenjo-Daro and M. S. Vat's excavations at Harappa in 1920s.

Religion:

Hindu:
Vedic Dharma was popular and from the remains found from the Indus
valley Civilization, it is believed that worship of goddesses, Sun, Shiva,
was followed. The temple of Somnath, in western coast, is one of
the twelve jyotirllingas of Shiva. There is no definate record as of
the origin of the temple (which is believed to have been built during
Mahabharat times) but the earliest record is of the dates of 10th century.
In Norther Gujarat, there is an eleventh-century Sun-Temple, at Modhera.
Near Mehsana, the town of Siddhpur is known for Rudramala Temple, built in
12th century. Goddess-worship was followed in ancient times and popular amongst them are temples at Pavagarh, Kherhbrahma and Ambaji. The oldest temple of Dwarika has become a pilgrimage place to worship Krishna.
Jain: The Jainism is widely followed in Gujarat since years. The oldest temple is believed to be of Shankheshwar Parshwanath in North Gujarat. Taranga temples were built during the Solanki period and they are better preserved than the temples of Mount Abu, Girnar and Shatrunjay. Palitana, is India's principal Jain pilgrimage site, the temples dated 5th century.
Muslim: Through the sea-route which was open for trade, the people from Iran and Arabic countries started coming in Gujarat. The trade system was established and the Indo-Islamic culture got flourished. This is a marked feature of many Gujarati cities. The famous mosques are built during Mughul times. These include Sidi Sayyid's mosque, Jami Masjid, of Ahmedabad,, Alif Khan's mosque in Dholka, Jama Masjid of Bharuch,etc.
Buddha: About the same time as Jainism, Buddhism also got popular. There were Buddhist temples also and the remains of the same are found from all over Gujarat. Ashokan Buddhist edicts engraved on a rock are near Junagadh. These remains are of 3rd century BC.
Parsi: In 10th century, Iranian Jarthost followers came to Gujarat and got settled here first at Diu, and then at Sanjan, Udvada -in South of Gujarat. Sanjan and Udvada are today main pilgrimage places of Parsi followers.

Sports:

Desi Games:
These games are largely played in Gujaratis since years. A lot of them are family games, and played by group or groups. There are minor games and major games -played according to rules.
Amongst the minor games are - Jhula, Ball games, Long and High Jump, Saat-taali (catch someone), KhoKho , Langadi (played with one leg), Hutututu (Kabaddi), Santa-kukkadi (hide and seek), marbles, tops, kite-flying, Gilli-dada (ball and sticks), Ambali-pipli (played on trees), skipping, swimming, wrestling, gymnastics, trekking, playing cards, chess, Antakshari, Races, etc.
The major games are those, which have strictly observed rules. The popular ones played are Cricket, Table-Tennis, Tennis, Volleyball, Basketball, Badminton, Carrom, Chess, Boxing, Hockey, Football, Billiards, Snookers,etc.
Mountaineering:
Basically soft-natured Gujaratis donot go further in for Olympic games. But it was remarkable when Guajartis joined in the Adventurous Mountaineering and succeeded in the sixties. In past 20 years, 20 more Himalayan peaks were successfully covered.